For years, I've had two framed items hung on my office wall throughout my various stints as CIO, CTO, etc.  I like to think of them, both individually and together, as reflecting certain truths or ironies I encounter as a technology executive, particularly in the realm of leading others.  They serve as cautions to me of leadership potentially gone awry.  So let's talk about what they show.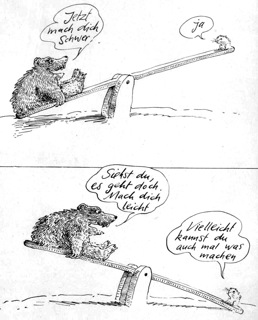 The bear and the hedgehog: "Vielleicht kannst du auch mal was machen"

The first is a decades-old cartoon taken from a German calendar, preserved from the years I lived in Berlin.
Two animals are playing on a seesaw. One is huge and bear-like, the other a small critter like a hedgehog.  As you'd expect, the bear outweighs the hedgehog, who dangles on the high end of the seesaw. The large one says to the small one, "Now make yourself heavy."  The little one says "OK", and voilà: the next panel shows the seesaw reversed, contrary to gravity and logic, where the hedgehog is now outweighing the bear.
The bear says, "You see? It really does work.  Now make yourself light again." Whereupon the hedgehog quietly retorts, "How about you doing something once in a while?"